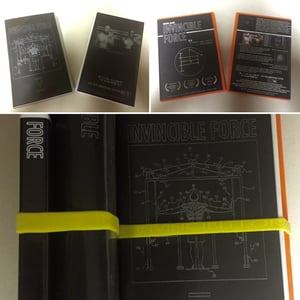 $

16.66 - On Sale
Limited to only fifty (50) hand numbered copies, this VHS/DVD boxed-set includes unique VHS cover art hand screen-printed in special motivational silver ink, a package of premium brand name self-tanner, and a fashionable yellow INVINCIBLE FORCE "BRING IT" wristband (all proceeds benefit THE FOUNDATION FOR TESTICULAR FORTITUDE).
The DVD (hand-numbered out of 100) features blasphemous new cover art and HOURS of extra features: lost scenes, director commentary, soundtrack selections, easter eggs, the DREW-BO™ proprietary workout program and much more!
INVINCIBLE FORCE is the story of one man's battle against his own body. Shot over 90 consecutive days using only obsolete video formats, INVINCIBLE FORCE documents Drew's incredible transformation from flabby man-child to infallible titan. During the production of INVINCIBLE FORCE lead actor Drew Ailes lost 35lbs (about 16kg) of body weight and his body mass index went from .27 to .085.