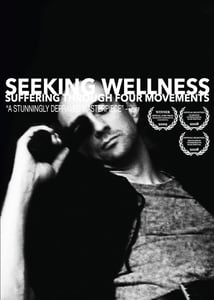 $

6.66 - On Sale
Finally available on DVD, for a limited time only, the award winning SEEKING WELLNESS.
NTSC REGION 00 90 MINUTES COLOR STEREO
FOR IMMEDIATE RELEASE
November 4th, 2010
AWARD WINNING DIRECTOR UNLEASHES FEATURE LENGTH VIDEO ABOMINATION
Dan S, recipient of the 2010 McKnight Fellowship For Filmmaking, makes SEEKING WELLNESS: SUFFERING THROUGH FOUR MOVEMENTS available for purchase.
Effective November 4th, 2010: SEEKING WELLNESS, a multi-award winning feature length conceptual video narrative that Urban Cinephile called "a harsh and nightmarish view of human nature", Melbourne Underground called "sharp-witted and shocking", The Minneapolis City Pages called "the kind of thinky/sadistic exercise that even the dark prince of psychological horror Michael Haneke might find difficult to watch" and Switchblade Comb called "the best Minnesota film of the decade" will be available for purchase on DVD for a limited time only. SEEKING WELLNESS DVDs can be acquired through the SEPULCHRAL VOICE distribution website (sepulchralvoice.bigcartel.com) and few elite retailers.
SEEKING WELLNESS is comprised of a series of four vignettes exploring ideas related to victimization, recovery and empathy. SEEKING WELLNESS had its world premiere at The Filmstock International Film Festival in England and went on to win The Special Jury prize a Melbourne Underground Film Festival. SEEKING WELLNESS has also won multiple international awards and accolades for its individual parts.
SEEKING WELLNESS features virtuoso performances from Charles Hubbell, poet/rap artist Brian Hesser, musician Kamela Koehler, lauded theater director Bethany Ford, infamous provocateur Paul von Stoetzel, cult legend R.P. Whalen (a.k.a. Rock And Roll Ray) as well as musical contributions from legendary painter and musician Chris Mars and world-famous Norwegian composer and avant-garde noise artist Lasse Marhaug.