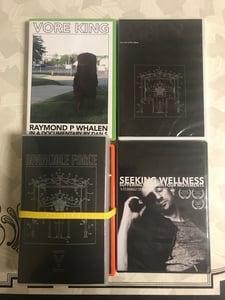 $

35.00
All currently in-print Sepulchral Voice titles, including the VORE KING Promotional DVD. AND the INVINCIBLE FORCE festival edition with six minutes of extra footage - still in shrink wrap!
SEEKING WELLNESS - A multi-award winning feature length conceptual video narrative that Urban Cinephile called "a harsh and nightmarish view of human nature", Melbourne Underground called "sharp-witted and shocking", The Minneapolis City Pages called "the kind of thinky/sadistic exercise that even the dark prince of psychological horror Michael Haneke might find difficult to watch."
INVINCIBLE FORCE - A detailed chronicle of one man's battle against his own body. Captured over 90 consecutive days with a budget zero dollars using only obsolete video formats, INVINCIBLE FORCE meticulously documents its subject's incredible transformation from slovenly man-child to infallible titan. During the production of INVINCIBLE FORCE lead actor Drew Ailes lost 35lbs (about 16kg) of body weight and his body mass index went from .27 to .085.
Limited to only fifty (50) hand numbered copies, this VHS/DVD boxed-set includes unique VHS cover art hand screen-printed in special motivational silver ink, a package of premium brand name self-tanner, and a fashionable yellow INVINCIBLE FORCE "BRING IT" wristband (all proceeds benefit THE FOUNDATION FOR TESTICULAR FORTITUDE).
The DVD (hand-numbered out of 100) features blasphemous new cover art and HOURS of extra features: lost scenes, director commentary, soundtrack selections, easter eggs, the DREW-BO™ proprietary workout program and much more!
VORE KING - Vore King is a detailed portrait of R.P. Whalen, world famous horror host, trash movie guru, carnival sideshow barker, and America's premier purveyor of vorarephilia fetish film. Vorarephilia, popularly known as "vore," is a sexual fetish where arousal is brought about by the act of one creature consuming another creature, most commonly manifested by monsters eating women. This film follows Whalen's process of conceiving and constructing an array of vore creatures while he rekindles a bond with his elderly father and battles the demons of suburban Milwaukee. Vore King features interactions with R.P. Whalen's actresses (affectionately known as "La Vore Girls") and family, as well as a rare glimpse into the production of vore film and the mind of a magical (and volatile) super genius.
(special promotional edition never officially released)